New Video
See Rob being interviewed by University of Pennsylvania professor Jonathan Supovitz on how teachers experience change. Click here to view.
Rob Evans on Raising Resilient Children
Rob Evans spoke to parents at the Randolph School in Huntsville, AL, in August 2012 about resilience. He described the challenges of 21st century parenting and outlined three key factors that foster resilience in children. See video excerpts from this talk.
Books by
Rob Evans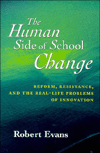 Rob Evans provides a range of consulting and training services including professional development programs, organizational consulting services, and parent education programs. These are available for audiences of all sizes in a variety of formats.
As life in schools grows steadily more complex, the pressure of rising demands affects the morale and performance of teachers and leaders alike, even in strong schools. The need to rekindle commitment and renew skills has never been greater. Rob does not advocate a particular set of school changes or exhort audiences to embrace change. He concentrates on the real problems real people and real organizations face when they want to change—or are pressed to do so. His programs focus on the needs of faculty and leaders as they try to meet the needs of students. He works with large groups for long periods of time and keeps them engaged and involved. He is happy to tailor presentations and consultations to specific local needs.
Professional Development

These are available in formats ranging from a keynote to a full day, for groups of any size. Popular topics include:

Two presentations are especially designed for school boards:

Organizational Consultation

Rob consults to schools and organizations of all kinds, both about specific dilemmas and as a regular on-call "troubleshooter." Services include:

Organization Development
Staff and Board Retreats
Conflict Resolution
Personnel Mediation
Crisis Intervention

Parent Education

Rob speaks to parents in a straight, common-sense way that avoids the usual clichés, and, with wit and humor, helps parents recognize their strengths, rethink their responsibilities, and concentrate on strategies they can actually apply. Topics include:

Real-life Parenting: Avoiding The Technique Trap
Self-esteem: What It Really Is; What Does—and Doesn't—Help
Surviving Your Child's Adolescence
Values, Character, and Healthy Growth