Books by
Rob Evans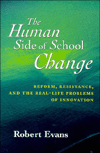 Books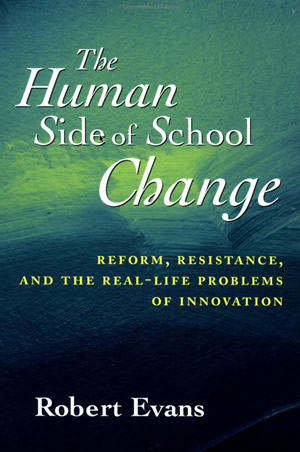 Rob's first book, The Human Side of School Change, is available online from Amazon, and Barnes and Noble. It provides practical advice on problem solving, communication, and staff motivation.
It argues for more realistic expectations about the pace of reform and the performance of leaders. And it presents a way of approaching all school improvement—a conceptual framework for understanding change as a process, educators as people, and leadership as a craft.
By concentrating on the realities of life in schools and the common personal barriers to change, the book illuminates the key sources of resistance to school reform.
Grounded in a thorough understanding of human behavior and organizational functioning, it provides a new model of leadership along with practical management strategies for building a framework of cooperation between the leaders of change and the people they depend upon to implement it.
---
"A unique, superb, and penetrating analysis of the human side of educational change. Evans knows the human realities of change and portrays them vividly in both individual and organizational terms. His discussion of hope and realism in the final chapter is a gem."
--Michael Fullan
"Evans has written a realistic yet hopeful book that sets a new standard for providing the leadership needed to implement school improvements. An engaging and much-needed update of the critical, but often overlooked, human side of change."
--Thomas Sergiovanni
Table of Contents
Part One: The Nature of Change
1. Changing Paradigms

2. The Meanings of Change

3. The Culture of Resistance
Part Two: Dimensions of Change
4. Implementation: Tasks of Transition

5. Substance: New AgAndas, Old Problems

6. Staff: Understanding Reluctant Faculty

7. Setting: Assessing Organizational Capacity

8. Leadership: Old Paradoxes, New Promise
Part Three: Leading Innovation
9. The Authentic Leader

10. Clarity and Focus: The Power of Concentration

11. Participation—Without Paralysis

12. Recognition: Reversing the Golden Rule

13. Confrontation: Avoiding Avoidance

14. Reach and Realism, Experience and Hope